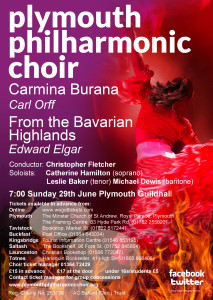 Carmina Burana – Carl Orff
From the Bavarian Highlands – Edward Elgar
Date: Sunday 29th June 2014 at 7pm
Location: The Guildhall, Royal Parade, Plymouth, PL1 1HA

Love, sex, drinking, gambling, dancing, fate, and fortune – EastEnders plotlines any day of the week; but there is nothing new here. Inspired by a set of medieval poems, Carmina Burana is a huge favourite among concert-goers and one of the most popular pieces in the classical music repertoire.
In the autumn of 1894 Edward Elgar began a succession of holidays in Bavaria. The landscape, people, their folk songs and dances inspired Elgar to compose this collection of six choral songs.
The Seasons – Haydn
Date: Sunday 30th November 2014 at 7pm
Location: The Guildhall, Royal Parade, Plymouth, PL1 1HA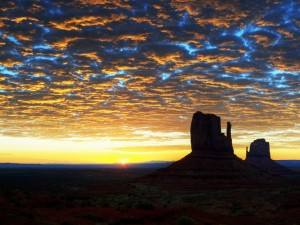 There is a distinctly American feel to this concert. One of our two composers is American and the other is a Brit who had been influenced for this composition by American music.
Morten Lauridsen is one of America's best loved modern composers who luxuriates in the power of the choral sound whilst John Rutter is one of our finest modern British composers, who also conducts, arranges and produces records, mainly of choral music.
John Rutter & Morten Lauridsen
John Rutter was born in London in 1945 and received his first musical education as a chorister at Highgate School.
He went on to study music at Clare College, Cambridge, where he wrote his first published compositions and conducted his first recording while still a student.
His compositional career has embraced both large and small-scale choral works, orchestral and instrumental pieces, a piano concerto, two children's operas, music for television, and specialist writing for such groups as the Philip Jones Brass Ensemble and the King's Singers.
His larger choral works, Gloria (1974), Requiem (1985), Magnificat (1990), Psalmfest (1993) and Mass of the Children (2003) have been performed many times in Britain, North America and a growing number of other countries.
He co-edited four volumes in the Carols for Choirs series with Sir David Willcocks and, more recently, has edited the first two volumes in the new Oxford Choral Classics series, Opera Choruses (1995) and European Sacred Music (1996). From 1975 to 1979 he was Director of Music at Clare College, whose choir he directed in a number of broadcasts and recordings.
After giving up the Clare post to allow more time for composition, he formed the Cambridge Singers as a professional chamber choir primarily dedicated to recording, and he now divides his time between composition and conducting. He has guest-conducted or lectured at many concert halls, universities, churches, music festivals and conferences in Europe, Africa, North and Central America and Australasia. In 1980 he was made an honorary Fellow of Westminster Choir College, Princeton, and in 1988 a Fellow of the Guild of Church Musicians. In 1996 the Archbishop of Canterbury conferred a Lambeth Doctorate of Music upon him in recognition of his contribution to church music.
He was honoured in the 2007 Queen's New Year Honours List, being awarded a CBE for services to music.
http://www.johnrutter.com/biography
Morten Johannes Lauridsen (born February 27, 1943) is an American composer. A National Medal of Arts recipient (2007), he was composer-in-residence of the Los Angeles Master Chorale (1994–2001) and has been a professor of composition at the University of Southern California Thornton School of Music for more than 40 years.
A native of the Pacific Northwest, Lauridsen worked as a Forest Service firefighter and lookout (on an isolated tower near Mt. St. Helens) and attended Whitman College before travelling south to study composition at the University of Southern California with Ingolf Dahl, Halsey Stevens, Robert Linn and Harold Owen. He began teaching at USC in 1967 and has been on their faculty ever since.
In 2006, Lauridsen was named an 'American Choral Master' by the National Endowment for the Arts. In 2007 he received the National Medal of Arts from the President in a White House ceremony "for his composition of radiant choral works combining musical beauty, power and spiritual depth that have thrilled audiences worldwide."
His works have been recorded on more than 200 CDs, five of which have received Grammy Award nominations, including O Magnum Mysterium by the Tiffany Consort, A Company of Voices by Conspirare, Sound The Bells by The Bay Brass and two all-Lauridsen discs entitled Lux Aeterna by the Los Angeles Master Chorale led by Paul Salamunovich and Polyphony with the Britten Sinfonia conducted by Stephen Layton. His principal publishers are Peermusic (New York/Hamburg) and Faber Music (London).
Read more here: http://www.mortenlauridsen.net/MortenLauridsen.html
John Rutter: Feel The Spirit
The moving, sometimes painful heritage of the African-American spiritual has provided composers, performers and audiences with inspiration since the nineteenth century. Spirituals (or Negro spirituals) are generally Christian songs that were created by African slaves in the United States. Spirituals were originally an oral tradition that imparted Christian values while also describing the hardships of slavery.
Each generation has produced different interpretations yet, curiously, few composers have combined the resources of soloist, choir and orchestra. John Rutter was inspired by the vocal artistry of Melanie Marshall, British-born stage actress who is also a singer who trained at the Royal College of Music. Rutter set out to compose a suite of spirituals crafted to her personal style, partnered by choir, with the orchestra to supply an extra dimension of colour and emotional depth. Feel the Spirit received its concert première in Carnegie Hall in June 2001.
Morten Lauridsen: Lux Aeterna
Of his days as an undergraduate Lauridsen says, "It was a natural thing for me to blend poetry and the human voice, which is the most wonderful and personal of all musical instruments. I ended up writing a great deal of choral music, and haven't stopped."
The Pacific Northwest of America, with its evergreen forests and sparkling waters, was a tramping ground for Morten Lauridsen and a source of inspiration. These places filled his mind with music and poetry.
Lauridsen's mother introduced her young son to music – their home was filled with the swing of jazz. When she died in 1997 Lauridsen composed the requiem Lux Aeterna. It is often compared with Fauré's Requiem and Brahms's Ein Deutsches Requiem, both works also inspired by the deaths of the composers' mothers. They share simplicity and an ability to move the listener with sounds that somehow express the depth of human emotion.
The five movements of Lux Aeterna are based on various references to light from sacred Latin texts including perpetual light, illuminating the darkness, Redeemer-born light, light of the Holy Spirit and eternal light.  Lauridsen seeks to express a human journey to embrace this holy illumination. Perhaps this  is a reason that Lux Aeternaoften often moves listeners to tears.
After its premiere, a writer for The Times called Lux Aeterna "a classic of new American choral writing" and said, "Old world structures and new world spirit intertwine in a cunningly written score, at once sensuous and spare".
Shirley Tyack – mezzo-soprano
Shirley has been singing all her life and says, "From the age of 2 I have trodden the boards!"
She was born and brought up in West London and went to the Royal Academy of Music as an older student, married and with 2 children, and studied on the Post Graduate, Advanced Singing Course and also the RAM Opera School.  Since then she has built up a strong and varied career encompassing all aspects of singing.
In 2004 Shirley relocated to Cornwall with her husband, Chris, and now feels she has been welcomed and fully accepted into the Cornish musical family.
She now has a thriving teaching practice and, apart from still performing all over the county, is Artistic Director of New Cornwall Opera, working on Educational Projects (Sing Up) and generally broadening her horizons to include coaching for speeches, presentations etc.  In May 2009 Shirley was Animateur for the Community Opera One Day Two Dawns which was a project run between English Touring Opera (ETO) and The Hall for Cornwall.  This was awarded Educational Project of the year by The Royal Philharmonic Society in 2010.
Concerts, Operas, Recitals
New Cornwall Opera
Duchy Opera
Last Night of the Proms – St Ives
Lunchtime Concerts – TMC and KCM
Helston Chamber Choir
North Devon Choral Society
St Austell Choral Society
Newquay Choral Society
Truro Choral Society
Projects
English Touring Opera – One Day Two Dawns – MD
Hall for Cornwall – The Hooligans – MD
Stiltskin Performing Theatre – The 3 Hairs of Fortune – MD
Reader Training – Dicocese of Truro
Helston Chamber Choir – Workshop and Masterclass
Conducting
MD – Amici Voci – small, mixed voice choir
MD – TOADS – Into  the Woods, Minack
MD – The Hooligans – Hall for Cornwall, Sterts
MD – Stiltskin Theatre Co – Barbican Theatre, Plymouth
CHRISTOPHER FLETCHER  Conductor
In 1978, Christopher was awarded a scholarship to study music at Trinity College of Music, London, becoming a Graduate and Fellow of the College. He moved to South Devon in 1984, since when he has been actively involved with choirs, church music and teaching. After 8 years as organist and Director of Music of the Parish and Priory Church of St Mary Totnes, in 2001 he was appointed to a similar post at the Plymouth Roman Catholic Cathedral. Since 1996 he has been Director of Music and Conductor of Plymouth Philharmonic Choir. During his tenure the choir has become recognised as one of the best large amateur choirs in the country.
Performances with the choir which stand out include: Elgar's Dream of Gerontius, Mendelssohn's  'Elijah' with Sir Thomas Allen as soloist, David Fanshawe's 'African Sanctus' in the presence of the composer, Karl Jenkin's 'The Armed Man', with the Orchestra of the Royal Marines, which was judged by the Plymouth Herald to be the best classical concert of the year, and the choir's recent performance of Dvorak's 'Stabat Mater' which many members of the audience thought possibly the choir's best ever!
In addition Christopher is conductor of the Chagford Singers, the Lupridge Singers and the Stanborough Chorus . He has also conducted the South Devon Choir. As well as being in demand as a choral workshop leader, Christopher helped to found the annual Rotary 'Come and Sing' charity concert at Buckfast Abbey in 1999, which he has conducted each year since and which regularly attracts 200 singers from all over Devon and beyond. In 2008 he was awarded a Paul Harris Fellowship by Rotary International. Christopher is also in demand as an after – dinner speaker.