Sunday 26 June 2022 – programme to be announced
Plymouth Guildhall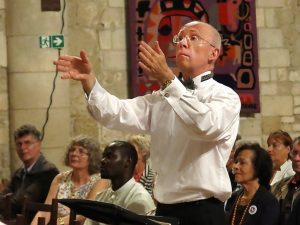 CHRISTOPHER FLETCHER  Conductor
Christopher Fletcher considers himself to be both fortunate and privileged to have been Plymouth Philharmonic Choir's conductor since 1996, during which time the choir has come to be recognised as one of the best in the South West. As well as the choir's regular concerts with professional orchestras and soloists in Plymouth he has conducted the choir in cathedrals and churches all over Europe, including Notre Dame in Paris.
Christopher was born in Leeds. At an early age he began to show considerable musical talent. At the age of ten he won the Northern Choirboy's Championship in Harrogate singing Hear ye Israel from Mendelssohn's Elijah and two years after this he became the first boy treble in the Bradford Diocese to be awarded the R.S.C.M. St. Nicolas Award.
In 1978 Christopher was awarded a scholarship to study at Trinity College of Music, London. After graduating Christopher moved to South Devon, since when he has been actively involved in choral singing, church music and teaching. He has been organist and Master of Music at Plymouth R. C. Cathedral since 2001, previously holding a similar post at the Parish and Priory Church of St. Mary, Totnes.
In addition to Plymouth Philharmonic Choir, Christopher is also currently conductor of the Stanborough Chorus, Kingsbridge, and is a former conductor of The Lupridge Singers, The Chagford Singers and the South Devon Choir.
As well as being in demand as a workshop teacher, Christopher helped to found the annual Rotary Club Come and Sing in1999.This is now an annual event which, under his direction, regularly attracts two hundred singers from all over Devon and beyond.
In 2008 he was awarded a Paul Harris Fellowship by Rotary International.
Soprano: Catherine Hamilton
Bass-baritone: Darren Jeffery
PAUL FOSTER COMMISSION
The choir has commissioned a new 'Mayflower' Oratorio from Plymouth-born composer Paul Foster, whose compositions have won various awards and been performed on the London South Bank.  The new piece is a substantial work for the choir, soloists and orchestra, with a text based on the wealth of source material and writings from the time.  In shape, the piece is a series of snapshots of the Pilgrims as they reflect on their departure, first from Holland and then from the south-west of England, and then during their arduous sea-voyage across the Atlantic.  It avoids the usual portrayal of puritanical zeal, and deals instead with the travellers as highly resourceful survivors in a refugee situation, experiencing the inevitable human emotions of the venture. All this is set against a backdrop of bustling preparations, noisy farewells and daunting seascapes – so expect big choruses with storms, cannons, sunsets and moonrises in music to stir up the inner-wanderer in us all!