South West England's Premier Choir
Founded in 1970, our 150-plus members perform a variety of music in Plymouth and elsewhere in the country and abroad. We have won widespread acclaim and concerts often include world-class soloists and musicians. 'In the top 10% of amateur choirs in the UK' says internationally renowned tenor and choir Patron Neil Jenkins.

For our next concert w
e will be singing Haydn's Nelson Mass and Mozart's Coronation Mass and his Exsultate Jubilate at Plymouth Guildhall on Sunday 28th November 2021.

To book tickets click the Concerts & Workshops tab then Our Next Concert.

We are delighted to be now rehearsing again on Thursdays at 7.15 pm in the Plymouth College Meade King Hall.


Future dates for your diary:
Sunday  3 April 2022 – Guildhall concert – Verdi Requiem
Saturday 7 May 2022 – The Big Sing – all  welcome – programme to be announced
Sunday 26 June 2022 – Guildhall concert – programme to be announced
Saturday 24 September 2022 – David Lawrence workshop
We are looking forward to welcoming you to The Plymouth Guildhall on Sunday 28 November for a momentous occasion – the choir's first concert in two years.  
For your information, the seats in the main downstairs hall are not numbered, so please feel free to choose where you would like to sit.  For our rehearsals choir members have been taking lateral flow tests and routinely wearing face coverings when moving around the hall.  We will be doing this prior to the concert and invite you to join us in taking these steps particularly following Boris Johnson's Press Conference on Saturday afternoon.
We very much appreciate your support and hope that you thoroughly enjoy the evening. 
Brian Gerry, Plymouth Philharmonic Choir President
"The choir was just fantastic and the overall detail you brought to this work was such a pleasure to listen to. A truly splendid achievement. I am always proud of what the Philharmonic Choir achieves and at the end of the performance I was lost for words – possibly a first for me!!!"
From former chairman Paul Baldry (on his retirement from the choir due to ill health)
I have so many varied memories of wonderful days and hours of music, deep friendships, planning visits to sing with other choirs, and particularly with the Royal Marine teams at HMS Raleigh.
Please do give my very best wishes and deep appreciation to everyone, especially Christopher and Jenny Shepley, with their dedicated, professional music skills leading everyone forward.
From a choir member
It's changed my life for the better.
"The choir were superb.  As their new President I'd like to congratulate them all. The one word that springs to mind was moving. It was a sweeping arch of sound."  Brian Gerry
"I'm really proud to be part of this wonderful choir. Christopher works us hard but look at the results! Fantastic and memorable evening of amazing soloists and orchestra too."
Kathryn Slater, choir member
Comments overheard on the way out after a concert:
"What an achievement. The harmonies were fabulous."
To a choir member "You look exhausted. How's the voice?" "What voice?" she croaked.
"It was so moving and everyone put in a hundred and ten percent."
"That soprano was terrific."
"To my untutored ears it was fantastic."
"Absolutely magic – so powerful."
"I'm knackered!" (said by a choir member)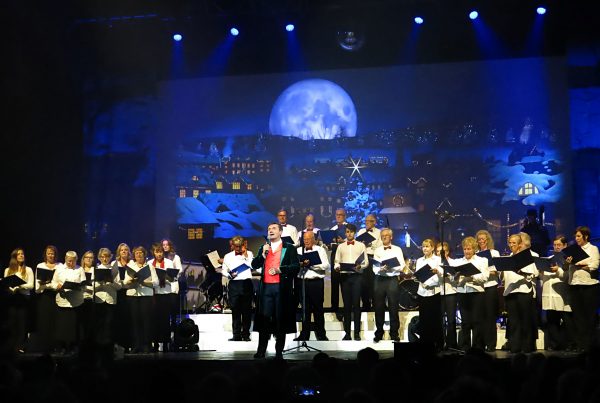 We were invited to sing with Irish superstar Daniel O'Donnell. See a gallery of photos from the evening on our Facebook page.
The Herald produced a splendid feature about our choir interviewing our youngest and one of our oldest members. They have an age difference of 75 years! It also reveals just…
CHORAL WORKSHOP
WITH DAVID LAWRENCE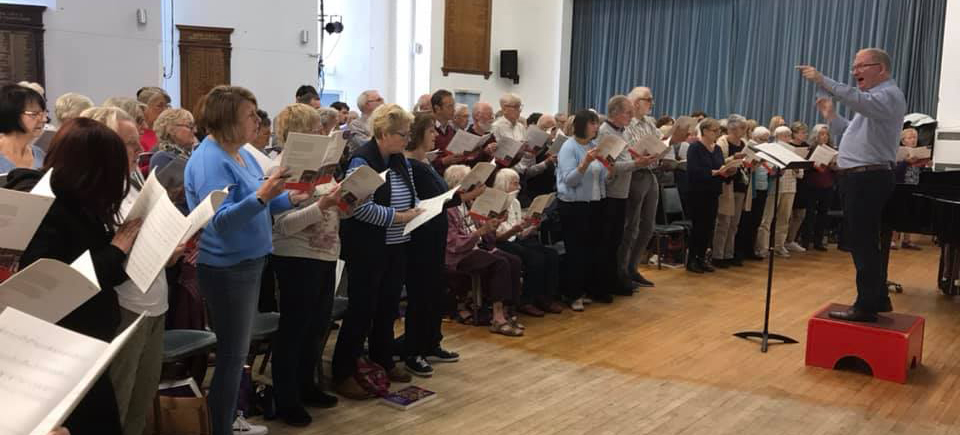 Our 2019 choral workshop with David Lawrence was a huge success, and we have asked him to return in 2021. For those who weren't there, we thought we'd share some of David Lawrence's advice on singing technique … and also some of his wit …!!
Open the back of your mouth wide and say "The space at the back of my mouth", then sing as if you were singing out behind you. This opens the pharyngeal space, whereas singing forward creates a constricted space and forces the voice.
David got us to sing a closely harmonised phrase from the Little Jazz Mass with our eyes closed to emphasise the need to listen to each other – this was really effective.
David encouraged the altos to use their controlled vibrato to add richness of tone when singing forte at the top of our range – this earned us a round of applause.
Don't drop your head when singing a low note and use the same face whether you're singing high or low in your range.
To improve our diction, he got us to sing with our finger in our mouth and make the tongue work harder.
When you breathe in, imagine wearing a belt of noses around your waist.
It is no wonder that, under the direction of Christopher Fletcher, the Plymouth Philharmonic Choir has become recognized as one of the best in the country.

Feedback from recent concert
I've never been to a concert like this before and didn't think I'd like it. They were amazing!

Feedback from recent concert
The highlight for me was the duet between the counter tenor and the soprano. Magnificent.

Feedback from recent concert
What a lot of effort everyone puts into it, and it really shows.

Feedback from recent concert
Very, very, very nice.

It was a badass concert!!!

Feedback from recent concert