South West England's Premier Choir
Founded in 1970, our 150-plus members perform a variety of music in Plymouth and elsewhere in the country and abroad. We have won widespread acclaim and concerts often include world-class soloists and musicians. 'In the top 10% of amateur choirs in the UK' says internationally renowned tenor and choir Patron Neil Jenkins.

OUR NEXT CONCERT
Dvorak: Stabat Mater
at Plymouth Guildhall
Sunday 26th March 7:30pm Plymouth Guildhall
For details about this concert and to book tickets click the Concerts & Workshops tab and
Spring Concert 2023
To book tickets for our future events in 2023, click the Concerts & Workshops tab.
Saturday 24 June – Rutter: The Sprig of Thyme and Carter: Benedicite at Minster Church of St Andrew
Saturday 25 November – Handel: Samson at Minster Church of St Andrew
Choral workshop with
David Lawrence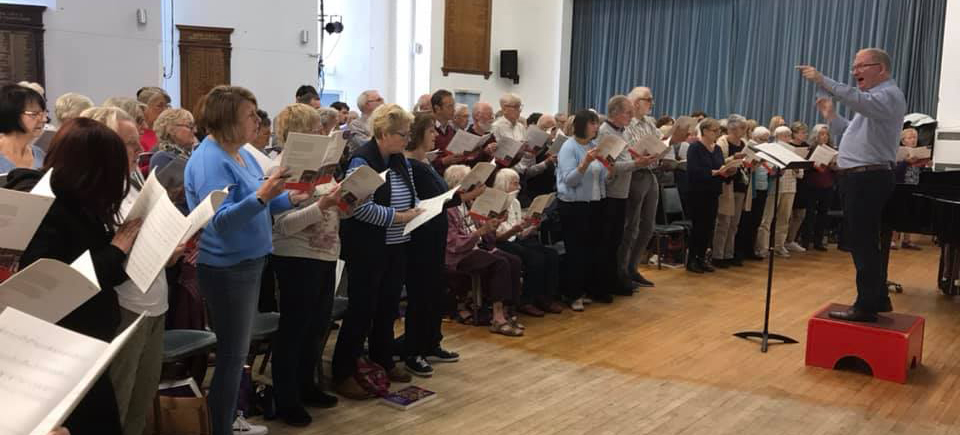 Our  2022 choral workshop saw a welcome return to David Lawrence and, like his 2019 workshop, it was a huge success. There is a report of this on our Concerts & Workshops tab. For those who weren't there, we thought we'd share some of David Lawrence's advice on singing technique … and also some of his wit …!!
Open the back of your mouth wide and say "The space at the back of my mouth", then sing as if you were singing out behind you. This opens the pharyngeal space, whereas singing forward creates a constricted space and forces the voice.
David encouraged the altos to use their controlled vibrato to add richness of tone when singing forte at the top of our range – this earned us a round of applause.
Don't drop your head when singing a low note and use the same face whether you're singing high or low in your range.
To improve our diction, he got us to sing with our finger in our mouth and make the tongue work harder.
When you breathe in, imagine wearing a belt of noses around your waist.
PPC performing at our
Orb & Sceptre concert summer 2022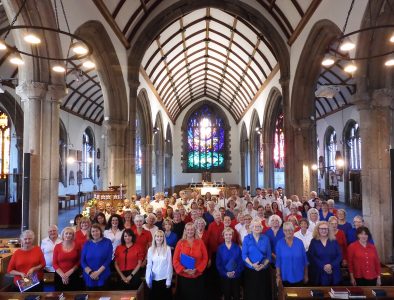 Wearing red, white and blue to celebrate the
Platinum Jubilee of Queen Elizabeth II
It is no wonder that, under the direction of Christopher Fletcher, the Plymouth Philharmonic Choir has become recognized as one of the best in the country.

Feedback from recent concert
I've never been to a concert like this before and didn't think I'd like it. They were amazing!

Feedback from recent concert
The highlight for me was the duet between the counter tenor and the soprano. Magnificent.

Feedback from recent concert
What a lot of effort everyone puts into it, and it really shows.

Feedback from recent concert
Very, very, very nice.

It was a badass concert!!!

Feedback from recent concert